​​​​​​​​​​​​​​

We specialize in all types of breeds including toy, small, large and hypoallergenic Designer Pooches.
We screen families and help match them with a puppy that will meet their needs and their lifestyle. 
 A supervising veterinarian visits our facility on a weekly basis.
All of our puppies are examined, dewormed and vaccinated by the supervising veterinarian. 
Our puppies stay with us for a minimum observation period of 2 weeks to ensure a healthy transition ito their new environment.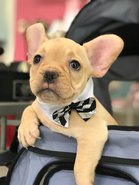 Our puppies come with:
Medical History 

Veterinary Certificate of Health

Up to Date Vaccinations

 Pedigree Certificate when applicable

1 Year Warranty for Congenital Diseases

Puppy Care Instructions
Puppy Development:
With the assistance of our team members, the puppies experience critical human socialization as well as puppy socialization on a daily basis to ensure their development into mentally healthy adult dogs.
Puppy Care:
Proper feeding is essential especially in small breed puppies because they are particularly susceptible to hypoglycemia-abnormal decrease of sugar in the blood. 

Puppies must eat a minimum of 3 times a day and be given oral liquid vitamins to prevent hypoglycemia.

For evey 30 minutes of play, allow 3 hours of rest in their crate or plapen area. 

Puppies should not go outside until the have visited the veterinarian and have completed all vaccines.